Lisle Three
Lisle Three - Review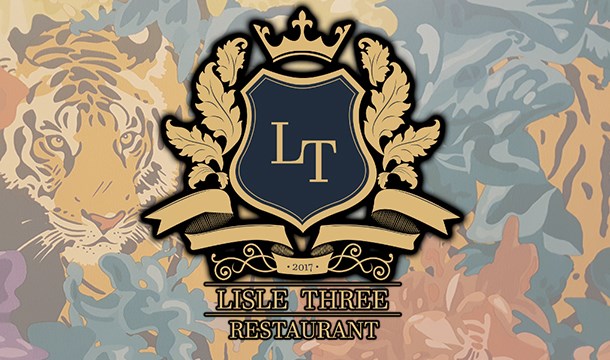 Every neighbourhood needs a hub where the community can gather for a chat and a bite to eat without too much fuss. The well-known "Deli-licious" has been providing just this to the residents of Crumlin for a number of years, so when offered the opportunity to visit their recently opened sister establishment, my partner and I both jumped at the opportunity.
Lisle Three is located conveniently above Deli-licious in the heart of Crumlin village, a stone's throw from the M50. We arrived just on time for our 20:00 reservation on a wintery Wednesday evening and were greeted warmly by proprietor Suzanne who seated us in a comfortable table for two amidst the busy dining room.
Our initial impressions are overwhelming positive, the renovations to what was once a beauty parlour are very well thought out and create a modern, yet cosy and inviting environment – not unlike visiting your favourite eccentric Aunties house. My partner opts for a glass of Pinot Grigio while a non-alcoholic Erdinger suits me as we review the menu. Front of House extraordinaire Sian, kindly offers us a selection of starters which suits our rather indecisive tendencies very well and she recommends the "Pork Three Ways" main for myself. My partner eventually settles for "Fish of the Day" which is Hake served with Wilted Spinach and Celeriac Puree.
With the hunger of the working day just starting to creep in, we are delighted to see three gorgeous starters making their way to our expectant table. The Shredded Duck Salad with Pomegranate, Fresh Orange and Vinaigrette Dressing is fantastic, and would suit smaller appetites as a main course! The Smoked Salmon Potato Pancake is equally good, served with Crème Fresh and Rocket (I was lucky to get a taste before my girlfriend polished it off in record speed!) The Fried Brie oozes and crackles and is exactly what we hoped it would be.
Our fellow diners are a mixture of families and couples and the smooth, jazzy soundtrack is perfectly suited to the environment. Another glass of wine for the Mrs and a handsome pair of main courses suddenly appear at our table.
The Pork is superb and provides a variety of complementary tastes and textures. The Belly is beautiful cooked, with just the right amount of fat. The Tenderloin is indeed tender and juicy, savoury and succulent. The Black Pudding Croquette is crispy and crunchy and the whole dish is tied together with Glazed Apples and a light Jus – seriously, order the Pork!
The Hake is once again perfectly cooked, with crispy skin, flaky white flesh and a gentle hint of the sea without being too fishy. Wonderfully presented, honest food without being pretentious. These traits seem to appear across the well-designed menu which is very much "Contemporary Irish" and showcases some great local produce. (The meat for instance, is sourced from that old Irish institution FX Buckley)

Although my partner and I were both perfectly satisfied, we find it impossible to resist the temptation of a home-made Chocolate Marquise, the monstrous portion is once again delish and the perfect end to our mid-week date.

Suzanne's infectious enthusiasm is evident in all every corner of the restaurant, from the Grandmother Clock (slightly shorter than a Grandfather Clock apparently) to the well-designed menu, the casual, relaxed atmosphere and welcoming service. I would certainly recommend Lisle Three as one of the most enjoyable neighbourhood restaurants we have visited and look forward to following their success over the coming years.
Visit Lisle Three