Cinnamon Garden
Cinnamon Garden - Review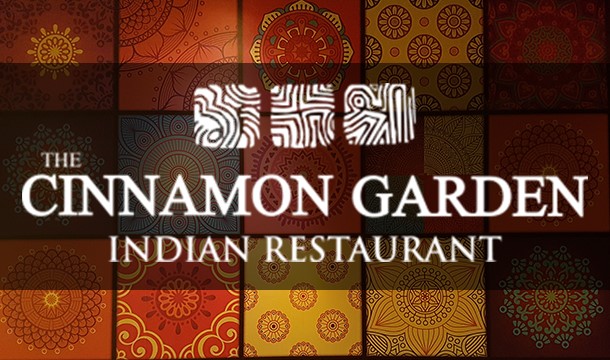 One of the most wonderful aspects of Indian Cuisine is the sheer variety, borne of not only the massive geographical space, but also the melting pot of cultures, influences and traditions. With a population of over 1 billion people with a penchant for travel, it is no surprise that Indian Cuisine is now enjoyed around the globe, with localised dishes such as the South African "Bunny Chow" or the Birmingham Balti proving widely popular in their adopted homes.
However, we were in search of a more authentic experience when my partner and I visited the well know Cinnamon Garden in Ashbourne, Co Meath. At around 30 minutes, we were pleasantly surprised with the journey time from Sandymount, practically a hop, skip and a jump down the N2 on a warm spring evening. Initial impressions are just what you would expect from a Tripadvisor "Certificate of Excellence" winner. Modern decor with intimate lighting and a warm, inviting atmosphere provides a calming oasis, whilst owner and proprietor Ash, is on hand to show us to a comfortable table with full view of the beautiful main dining room.

With a menu that does seem to cater to just about everyone's palate, we turned to Ash for a helping hand (which was probably the wisest decision of the evening.) And so, with no fuss - we left our culinary journey in the hands of this most skilful tour guide. I personally would have been happy to snack away on the delicious Poppadom canapes all night, these gorgeous little savoury morsels which look like lilies floating on a murky wooden pond are served with 4 dips/chutney - each better than the last, but a pair of handsome King Prawn Zaffranis (the first of what turns out to be a seemingly never-ending stream of food) arrives to our table with a bang. Cooked to perfection, succulent and juicy, well seasoned with saffron and beautifully presented. With a brief pause to enjoy a few sips of wine, one of the vegetarian starter options makes its way out of the kitchen and onto our table. The Spinach Samosa (Palak Ka Phool) is crispy and light, with a wonderful Feta and Baby Spinach filling - delish!
The next tasty morsel to make an appearance is a gently griddled piece of Tilapia, light and flaky, and the perfect carrier of the subtle, well blended South Indian spices. The presentation pales only to the flavours on offer. The balance is perfectly crafted and my partner and I greedily scoff what is our third starter, but even at that - Ash is not quite done with us. Round 4 is a wonderfully marinated, chargrilled chicken leg, tender, succulent, just a hint of the flame, served with pickles and some very pretty Riatta.
Throughout the evening we begin to notice small details which add to the opulence of the experience, from the bespoke crockery which differs with each course, to the subtle Asian trip-hop soundtrack piped softly into the room. (Even the table water is jazzed up with strawberries, mint, orange and lime slices!) The atmosphere is definitely upmarket, but accessible and welcoming.
I'm genuinely starting to worry when yet another course arrives at our table, this time a beautifully cooked piece of Wicklow Lamb, stacked high and as pretty as a picture. The mint pesto ads a familiar Sunday lunch feel to what is otherwise another exotic foray into the creative minds behind Cinnamon Garden. Again, the attention to detail is astounding, with each dish comes a variety of textures, colours, gels, cooking techniques and of course flavour combinations - painstakingly thought-out and executed. Nothing is out of place, in appearance or taste.
The red meat theme is extended with a beautiful Barbary Duck Breast, cooked in the Tandoor Clay Oven, almost too elegant to devour, the meat is tender and juicy, while the seasoning is deep, rich and infinitely tasty. The ever helpful proprietor offers a little background into the marinating and cooking process, his journey to running a multi award-winning restaurant and life in modern Ireland. it is abundantly clear that Ash loves what he does and his infectious charm, broad smile and generosity only serve to enhance the experience as a whole.
With groaning bellies, we retire in the comfortable seats to enjoy what we (incorrectly) assume is a refreshing sorbet dessert, alas, it is merely a palette cleanser before the main course! My partner and I are duty bound to at least sample the Tandoori Butter Chicken and Lamb Chettainud, served with the most sensational lemon rice and a Peshwari naan. The Butter Chicken is probably my favorite dish of the entire evening (and that is saying something in a meal comprised of 8 delicious courses) The gravy is creamy, rich and tangy - expertly blended and seasoned (my mouth is literally watering as I write this) The Lamb dish is of a similar high quality, the balance of flavours is really impressive and the skillful blending of spices creates a real harmony on the plate. We are almost embarrassed to admit defeat in the face of such overwhelming hospitality, but are ultimately glad the next day when tucking into the doggie bag lunch boxes!
The restaurant appears to do a brisk take-away trade with a number of people collecting bags brimming with spicy fayre, we also notice a flyer advertising a catering service which would be perfect for any number of occasions and certainly something we would personally consider in the future. I believe booking well in advance is essential for those wishing to visit Cinnamon Garden on the weekend, another testament to the popularity of this little gem. We were perhaps especially lucky with our timing, which enabled us to try a variety of dishes in one sitting, this of course may not be possible on a packed Friday night, but I'd be certain that the fantastically helpful staff will do what they can to please whenever you choose to visit.

Cinnamon Garden has enjoyed a number of high profile awards over the years, including:some of the more recents ones include:
Best Restaurant - Leinster (Irish Curry Awards 2016)

Best Restaurant - Leinster (Restaurant Association of Ireland, 2017)

Best Team - Leinster + Best Team - Ireland (Asian Curry Awards, 2017)

Best Front of House (Irish Curry Awards, 2017)
It is easy to see why, Incredible food in a modern upmarket setting, fantastic service and value for money. My partner and I are privileged to eat out rather often, but we both agree that Cinnamon Garden is easily the most enjoyable meal we've shared in recent times. I couldn't recommend it highly enough and cannot wait to return for another trip